Restaurants & Bars
Indulgent food and premium drinks are an important part of the Karisma Gourmet Inclusive® Experience at The Fives Azul Beach Resort Playa del Carmen. French, Japanese, Mexican, Italian and other cuisines combine with amazing views and decor. The deliciousness is limitless, and the eye candy just goes on and on.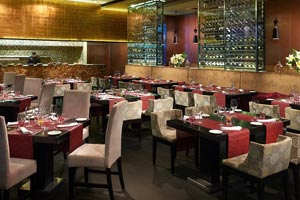 Arezzo
Italian Restaurant
An energetic vibe surrounds you in this open kitchen Italian concept. Authentic flavors will transport you to Old Italy while floor-to-ceiling windows reveal Caribbean sunsets. At Arezzo, enjoy freshly made Italian food; pastas, pizzas, and grilled-to-perfection seafood, poultry and meats. Wine connoisseurs will appreciate the impressive selection and a dedicated sommelier to guide you.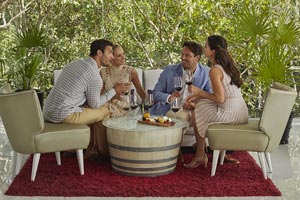 Club 82
Wine Bar
Become an aficionado at Club 82 Wine Bar, highlighted by a spectacular forest view from the top floor of The Fives Plaza. Sip your favorite vintage or explore the vast wine selection. Relax in indoor and outdoor spaces, or plan a group tasting for up to 18 people in Club 82's private tasting room, guided by our Karisma sommelier.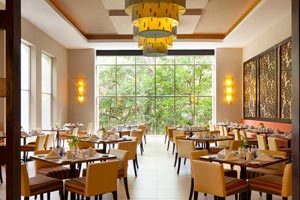 Flavours
World Cuisine
A classic family favorite, Flavours offers casual and relaxed world cuisine with delectable dishes — and spider monkeys just within view. For breakfast, you can never go wrong with our expansive world cuisine menu. Then in the evening, dishes are prepared with Mexican culinary tradition and served in tropical splendor beneath a glass atrium. Both settings offer an expansive food display and à la carte options to satisfy every palate.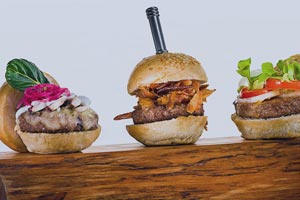 Gourmet Corners
Oceanfront Dining
Relish in the pleasure of playing in the sun for as long as you wish. An afternoon craving can easily be satisfied with a scrumptious bite at these no-frills eateries. Quench your appetite with a smoothie or a sandwich — and then get right back to your fun.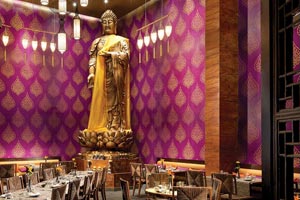 Koh Thai
Asian Cuisine
Awaken the senses with an explosion of Southeast Asian flavor. Lemongrass, tamarind and chili blend in harmony to create classics like Green Papaya Salad, Red Curry and Pad Thai. Just past the 15-foot Buddha, you can savor your favorite Thai dishes along with our own wok creations in a Bangkok-inspired ambiance. Or dine al fresco on a wooden pagoda, floating on an illuminated Koi pond. Guaranteed, the best Thai food in Playa del Carmen.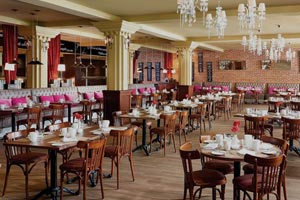 La Brasserie
Bistro Cuisine
Contemporary French bistro cuisine infused with Old World sophistication makes La Brasserie an irresistible choice. Sample from an array of chef-inspired favorites, in a beautifully presented food display. Or if you prefer, order à la carte selections such as Steak Tartare, Coq-au-Vin and Entrecôte au Poivre. Complement your meal with a fine Bordeaux wine, a creamy Camembert from the cheese trolley, or a flambéed coffee.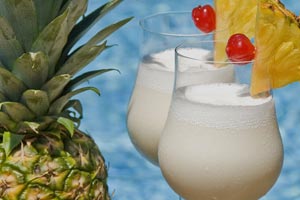 Lizards Bar
Pool Bar & Terrace
This pool bar & terrace offers a delightful selection of light bites, hamburgers, sandwiches and kebabs. Sample local favorites like Mexican coffee, fresh juices, margaritas or beers.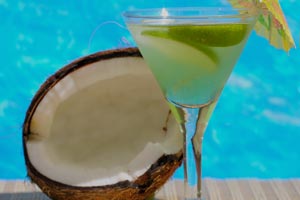 Manglar Bar
A stay at The Fives gets you up close and personal to lush tropical habitat — and Manglar Bar is the perfect spot to grab a drink and enjoy a view of the forest, frolicking wildlife, as well as the pool.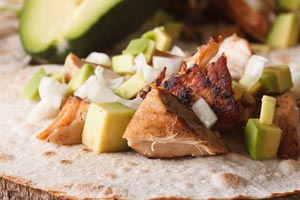 Mestizo
Our new Essence section of the resort is home to some of the tastiest grilled fare around. Get your gourmet burger fix while admiring nearby pool and mangrove views. This al fresco eatery is perfect for a casual lunch — without straying too far from your comfy pool chaise.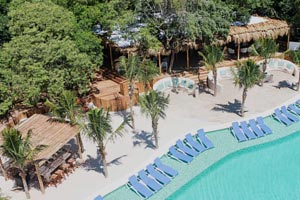 Natura Day
Club and Grill
This sandy poolside hang-out at Azul Beach Resort The Fives Playa del Carmen encompasses a lounge, grill and bar serving unrivaled exotic drinks that keep your senses alive and refreshed. Its decor preserves the natural elements of the local mangrove, while its ambiance incorporates an electric mix of music and adults-only tranquility. Dine on the outdoor wooden terrace while trying out a range of mouthwatering grilled menu items, or simply relax in the lush yet lively atmosphere.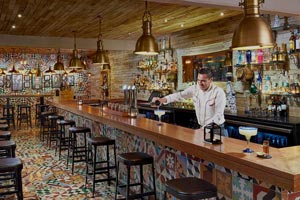 Nineteen Ten
Mexican Cantina
No trip to the Riviera Maya would be complete without a Mariachi appearance at a true Mexican Cantina. Nineteen Ten delivers on both ambiance and flavor, serving up a wide selection of Mexican dishes and some of the best tequila and mezcal on the planet. When in Mexico, you sip on margaritas and sing along.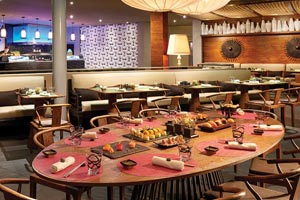 Oka Sushi Bar
Satisfy your craving for hamachi rolls and tempura at the finest sushi bar in the Yucatán. At Oka, our sushi chefs prepare imaginative presentations of sushi and sashimi, using only the finest and freshest ingredients. Enrich the experience even more with a glass of genuine sake or an ice-cold Sapporo.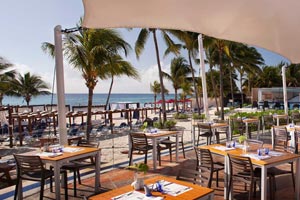 Oriola
Beach Club Grill
Whet your appetite for ocean views and tantalizing bites. Enjoy casual beachfront dining on our breezy outdoor veranda. An extensive menu has something for all tastes, with fresh salads, made-to-order ceviches, tacos from our popular Taco Truck, signature burgers, sandwiches, pizza, and decadent ice cream creations.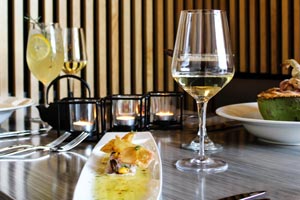 Pisco Nikkei
Cuisine & Raw Bar
Delight your taste buds at Pisco Nikkei Cuisine & Raw Bar. Live the Nikkei experience at this modern restaurant and discover the latest gastronomic sensation, the century-old cooking style is a fusion of Japanese and Peruvian cuisine. Relax in true Caribbean fashion while you dine, and don't forget to taste the authentic expression of Peruvian Pisco.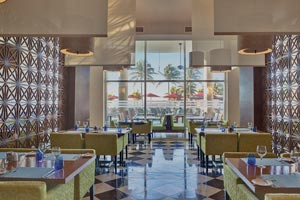 Sea Olive
Mediterranean cuisine
Rekindling the essence of the French Riviera, Sea Olive is everything chic coastal dining should be. Our Mediterranean cuisine and Mexican fusion cuisine features à la carte dishes designed to delight. Dine indoors or al fresco on the outdoor terrace, where only the vistas of Cozumel can bring you back from the feel of Cannes.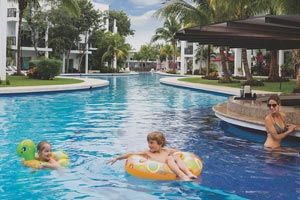 Swin-Up Bars
Palmas Swim-Up Bar:
The Palmas swim-up bar serves light bites and sandwiches, as well as a number of beverages, from tea to your favorite cocktail. Just remember: don't drink and dive.
Breeze Swim-Up Bar:
Order your favorite drink and soak up the sun while enjoying a signature cocktail, mixed tropical fruit juice or refreshing smoothie.
The Gin Bar
Mediterranean cuisine
Cool sophistication and creative gin concoctions await you in this upscale and stylish watering hole. Our bartenders hand-craft all cocktails and pour a variety of premium gins from around the world. Just the place to unwind and enjoy a nightcap on our grand terrace. Simply, the best Gin bar in Playa del Carmen.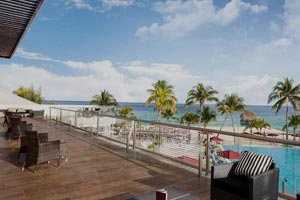 Zky Bar
Sip on a mango margarita, minty mojito or any cocktail that intrigues you, all beneath a star-studded Caribbean sky. The night is always just getting started at the Zky Bar. An all-glass elevator leads you to a chic outdoor terrace where you can watch sports on the flat screen TVs, or kick back and relax with live music every night.